Faculty Resources
These faculty resources offer tools, strategies, and support materials to help faculty prepare candidates for the New York State Teacher Certification Examinations.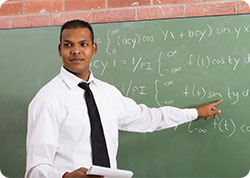 The faculty resources section of this website is designed to assist educator preparation faculty and others in:

Understanding Test Content
Read about what content is measured by each test and the source standards documents used to develop the NYSTCE test frameworks.

Helping Candidates Prepare
Assess candidates' readiness to test and assist in guiding their test preparation.

Interpreting Candidate Test Results
Understand how NYSTCE test results are released, how to interpret examinee test results, how test results are provided to New York State institutions of higher education, and the validation process and reliability information for the NYSTCE.
Vouchers are available for purchase by state education agencies and educator preparation programs to provide candidates with full or partial credit toward fees for test registration and preparation resources.

NYSTCE Program Updates
The New York State Education Department (NYSED) and the New York State Board of Regents have announced the development of new tests required for teacher and School Building Leader certification in New York.